Guerrers de Xi'an.
Fòrum Universal de les Cultures, Barcelona
The excavation site and the archaeological process of carefully recovering the hidden treasures were the main source of inspiration for the design of the Xian warriors' exhibition.
The exposition is arranged in two separate but interconnected spaces: the introduction area -the audiovisual room with a capacity for 250 people-, and the actual exhibition area, situated in a large continuous space of 900 square meters. The cinema, a walk-through area that connects the exterior with the exhibition space, is concealed behind a "roof-screen-access" element. This mobile illuminated object, formed by three consecutive and interconnected panels, was specifically designed for this area. Its function, purposefully theatrical, is to control the flow of visitors, defining and illuminating the space during the moments of movement, converting itself into a large projection panel during the audiovisual display, and finally rising –just like a flat curtain-, to give way to the main exhibition room, celebrating the spectacular transition from projected image to the real space.
The last audiovisual image becomes the first real view of the exhibition, a view marked by the infinite perspective of terracotta warriors, guardians of the 120 pieces from the Qin and Han dynasties on show. The lighting of the warriors is dramatic and gradient, highlighting structure and texture of their exquisite surface treatment whilst leaving the actual exhibition space in semi-darkness. The visual reference to the archaeological process can be appreciated in the exhibition-floor's layering and differing heights as well as in the vertical exhibition planes, which are filled with different types and textures of earth. The combination of freestanding pieces and objects in display cabinets create mirror effects and reflections on the vertical exhibition panels, which blur the borders between the real and fictitious, just like the two warriors (with the help of one way mirrors)who turn into an entire army or the Chinese emperors' conviction that death is just an illusion of life.
Concept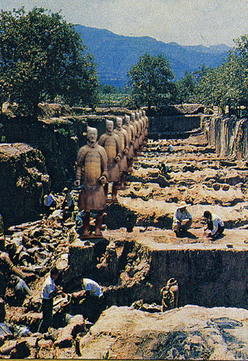 Credits
Project: Exhibition "Xian warriors"
Location: Moll de la Pau, Forum Universal de las culturas- Barcelona 2004
Date: May–September 2004

Authors: Julia Schulz-Dornburg, Joan Pons Foment
Collaborators: Mariona Benedito

Client: Forum Universal de las culturas- Barcelona 2004
Production director: Salvador Pons
Exhibition director: Imma Mora
Coordination: Cristina Vila
Lighting design: Carlos Rueda
Graphic design: Luz de la Mora
Construction: Manterola

Photography: Miguel Bargalló, Toni Coll

Awards: Finalist of the 2005 5th Salóni Award
Selected for 2005 FAD ephemeral spaces award